I have come to strongly feel that, like many things in life, unfortunately, when they're expensive, there's usually a reason. This is why I typically don't purchase drugstore makeup anymore for the most part, because I have found that the items I have spent more money on are far better. (They tend to be incomparable to anything in drugstores or cheaper lines though.) Even in more high-end makeup, though, sometimes there is a difference in price point and quality. While at a certain point it practically physically pains me to spend so much on one item, sometimes you just bite the bullet and do it. Below, I list the products for I would sell my firstborn child for a free lifetime supply.
Tom Ford Beauty Eye Defining Pen in Deeper – $55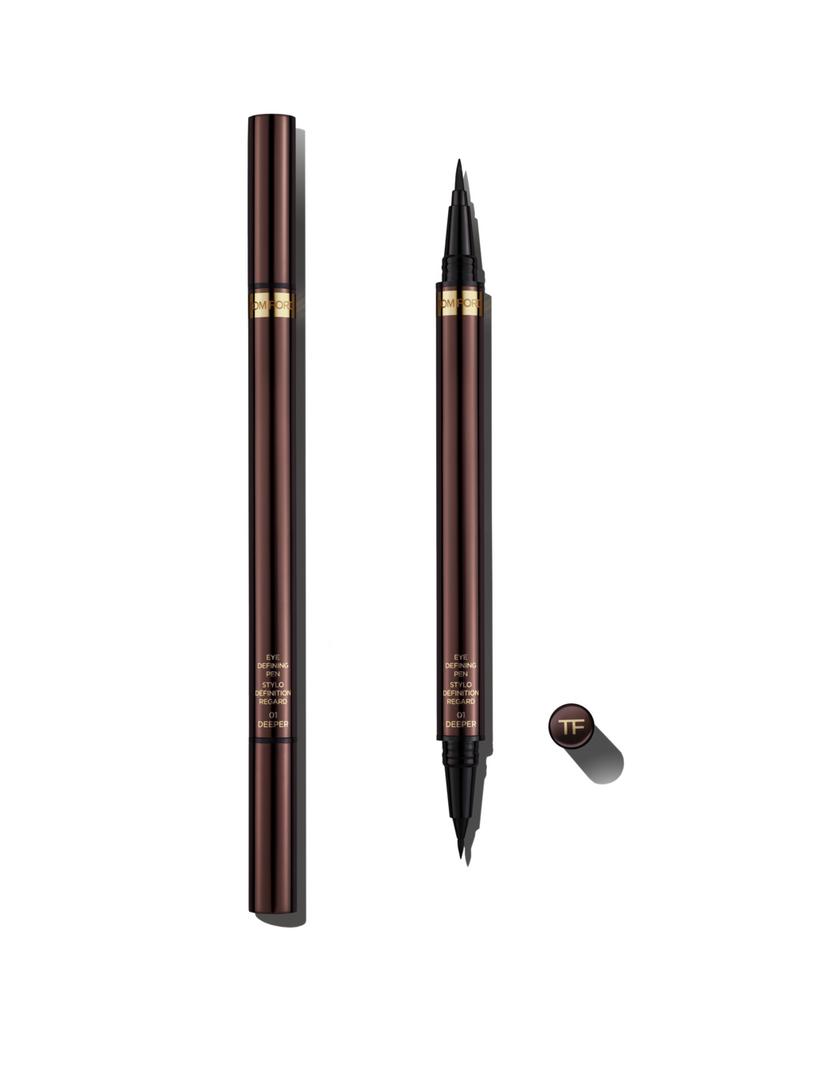 That the formula is wonderful is basically a given for the amount of moolah, but what makes this eyeliner pen worth every penny is its dual tip with calligraphy ends. As you can see, one end is small while the other is longer (duh); this makes doing a cat-eye way easier, especially since the longer end is the exactly the right length for "wings" for my eyes.
Yves Saint Laurent Rouge Pur Couture Vernis À Lèvres Glossy Stain in 8 Orange de Chine – $35
I have never before been so obsessed with any lip product as I have about this stuff. I actually just bought my third one today, because I cannot get enough of these. YSL's "Glossy Stain" formula is magical: two coats of this stuff and not only do you have stellar color and shine, but it is seriously long-lasting. Even after drinking from a cup, bottle, etc., only minimal – if any – traces of this glorious item will be left behind. It does exactly what it says it will do: gives you gorgeous glossiness in addition to crazy longevity. There are a ton of colors including a whole separate line of shades called "Rebel Nudes," which are a bit more luminous and 3D and less opaque. I own this in 7 Corail Aquatique, 8 Orange de Chine (above), and, as of today, the Rebel Nudes hue 108 Violine Out of Control, which I am modeling in the photo below. I've been using them almost every time I go out. All of this means, however, that I have spent over $100 just on lipgloss but I don't mind: they're worth every penny!
Maison Martin Margiela 'REPLICA' Beach Walk – $125
Undoubtedly, this fragrance is the most unique perfume I have ever smelled; and of all the fragrances I have ever owned, this one is my favorite. The idea with this line of perfumes by Maison Martin Margiela is to evoke a certain time, place, and feeling, and "Beach Walk" certainly does that. It smells exactly like the beach, minus the sweat and stink of rotting seaweed. If you love summer, tanning, and going to the shore, this is an amazing fragrance. The bottle is pretty cool looking, too. The price is pretty prohibitive – I got it because I had a special discount code – but if you don't mind not having the nice packaging, The Perfumed Court sells small decanted amounts of all the 'REPLICA' scents for as little as $3 (as well as other pricey designer fragrances).
Illamasqua False Eye Lashes No. 21 – $23.53
I'm sorry, what is that? You think spending close to $24 on a pair of fake eyelashes is insane? WRONG. I love false lashes but these ones by Illamasqua are particularly bomb. Particularly for special occasions, this beautiful pair looks dramatic but isn't overpowering. You can wear them several times as well, no problem! An added bonus is that the included lash glue is probably the best false eyelash adhesive I have ever used.
Sometimes money can buy you happiness. Or at least, some nice makeup.