'Sup biddies? For one of BB's inaugural posts, I wanted to share some of my all-time favorite products that I come back to time and again.
Makeup
Stila Stay All Day Waterproof Liquid Eye Liner in black – $20

I cannot tell you how many of these I have bought over the years, and how many colors I possess. It's embarrassing. These felt-tipped liquid eyeliner pens are a gift from god: super easy application, will last through nuclear holocaust, and great value. As a chronically sweaty person, these babies have made my life so much easier since I never have to worry about the color coming off.  Come what may – rain, a quick cry, or beer splashed in your face – the long-lasting formula will ensure your liner continues to look fre$h. The only things that may come between you and this little miracle are a dip in the pool or shower, and eye makeup remover. Sometimes, when the felt tip loses its fine point or begins to dry out, it can get a little frustrating. This can be remedied by carefully snipping the end of the pen, or just giving up and buying a new one. Either works.

I will admit that for the past few months I have been cheating on Stila with an eyeliner pen that may rival its greatness: Tom Ford Beauty's Eye Defining Pen in Deeper – $55.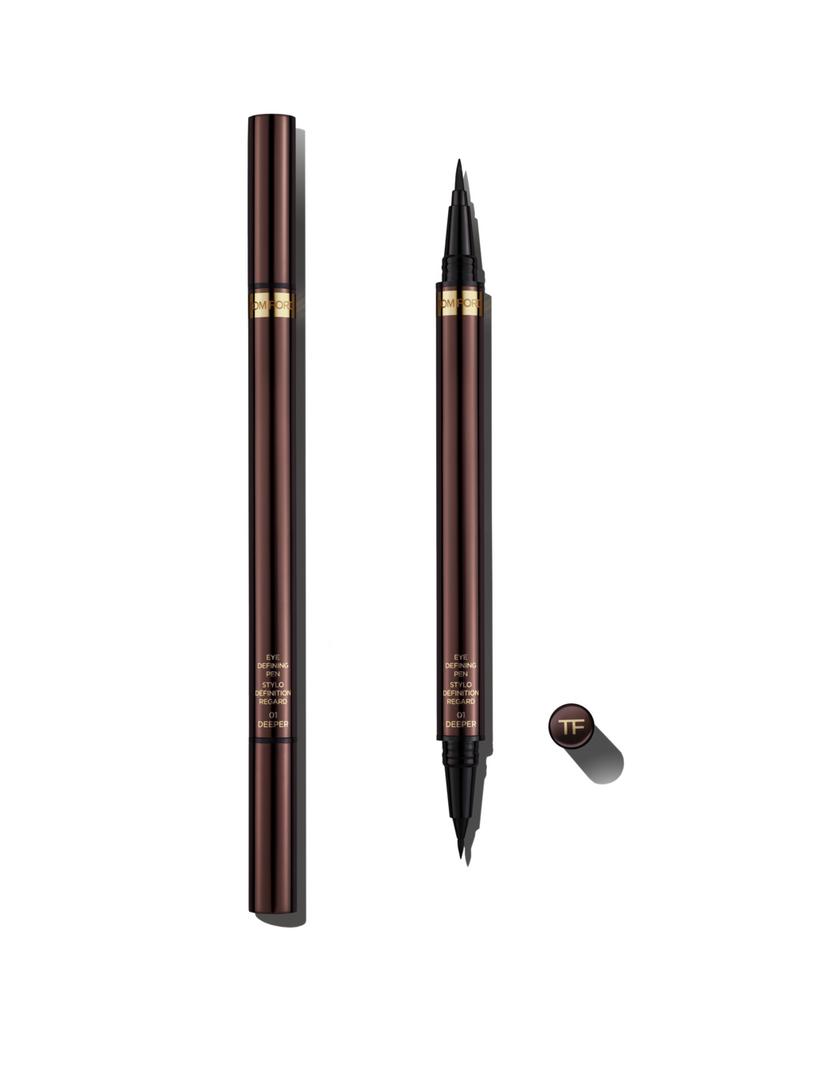 The formula is incredible, of course (and as one would hope at that price), but what really does it for me are the dual-ends. One side has a fine-tip calligraphy end, while the other has a longer brush. It allows for a variety of looks, and makes winged eyeliner a total cinch. For that reason, it is a lot easier to use than the Stila pen. The cost is a big deterrent – I would normally never spend so much money on one item – but I had read so many good things about the pen that I had to try it out for myself. It exceeded all expectations. Nevertheless, I still go back to my Stila frequently: it's my old faithful!
MAC Studio Face and Body Foundation  – $35
Much like Jake Gyllenhaal in Brokeback Mountain, I wish I knew how to quit you, MAC Face and Body. I have tried testing the waters and using other foundations, but I always come back to this one for the sheer and light (but buildable) coverage. This size bottle will last you forever as well, although as a rule one should really throw out foundation after 12 to 18 months. Whatever. Do as I say, not as I do.
Urban Decay Eyeshadow Primer Potion in Greed – $10
UD's Primer Potion is a great way to keep your eyeshadow in place all day and prevent any creasing that may occur by providing a base that keeps your eyelids from becoming oily. I love the shade "Greed" because I can also use it by itself for a little bit of shimmer on my lids even if I decide to pass on wearing shadow.
Benefit Cosmetics They're Real! Mascara – $23
I have been all about They're Real! since day one, both the formula AND the brush. My god, the BRUSH. I love that it separates the lashes and never gets clumpy itself. Because of the brush, though, I have some friends who have felt They're Real! to be too intense for them because it really looks like they're wearing falsies. I've never had that experience myself though, or maybe I'm just super basic and don't care. Whatever. Benefit 4 lyfe.
Honorable mention: Too Faced Better Than Sex Mascara – $23.
Illamasqua Powder Blusher in Ambition – $16.57
For some reason the picture of the shade on the Illamasqua website is wrong, which is probably why it is now on sale. Because the color they have shown is hideous. And it is so, so wrong, because Ambition is a gorgeous shade that is reminiscent of the color "Orgasm" by NARS. Except this blush is so, SO much better than the NARS one, as this color has a teensy bit of shimmer in it. But better yet, the color payoff for this baby is incredible: you need to shake off your brush a little before applying or else you might end up looking like a doll. (Unless you're going for that look; you do you.)
Hair
Bumble and bumble Surf Spray – $26

Due to a number of medical problems, I have very thin hair shoulder-length hair, and not much of it. And I can't do much with what I do have either because it is neither long nor thick enough to do or hold most styles. It blows. What I can do, however, is make my waves look amazing by spritzing this spray after I get out of the shower, on the underside of my mane for volume and as a light mist everywhere else for perfect, beachy-ish waves. (Careful, though: if you put too much on, you'll feel a crunchy.) For some reason, after recommending this product to a friend and subsequently hearing her surprisingly less-than-stellar review, it seems that if your hair is not sufficiently wavy before using the spray (like, if you maybe have one or two waves but are otherwise pretty straight), you will not magically develop perfect beach waves. Maybe there is a way to rectify this; I don't know. But if you simply want to make your wavy hair look incredible with minimal effort, this is wonderful.
Skin

Dr. Brandt pores no more vacuum cleaner – $45
I have been blessed with relatively problem-free and clear skin; the trade-off, however, is that I have blackheads on my nose. I like this cleanser because it sucks out the dirt from said blackheads and leaves the pores looking smaller.
There you have it: some of my perennial favorite beauty buys! What are some of yours?